Approaching the limits of climate viability: Urban heat vulnerability in Atlanta and how to adapt
12:30 PM - 1:30 PM
Scholar's Event Network Theater, first floor Price Gilbert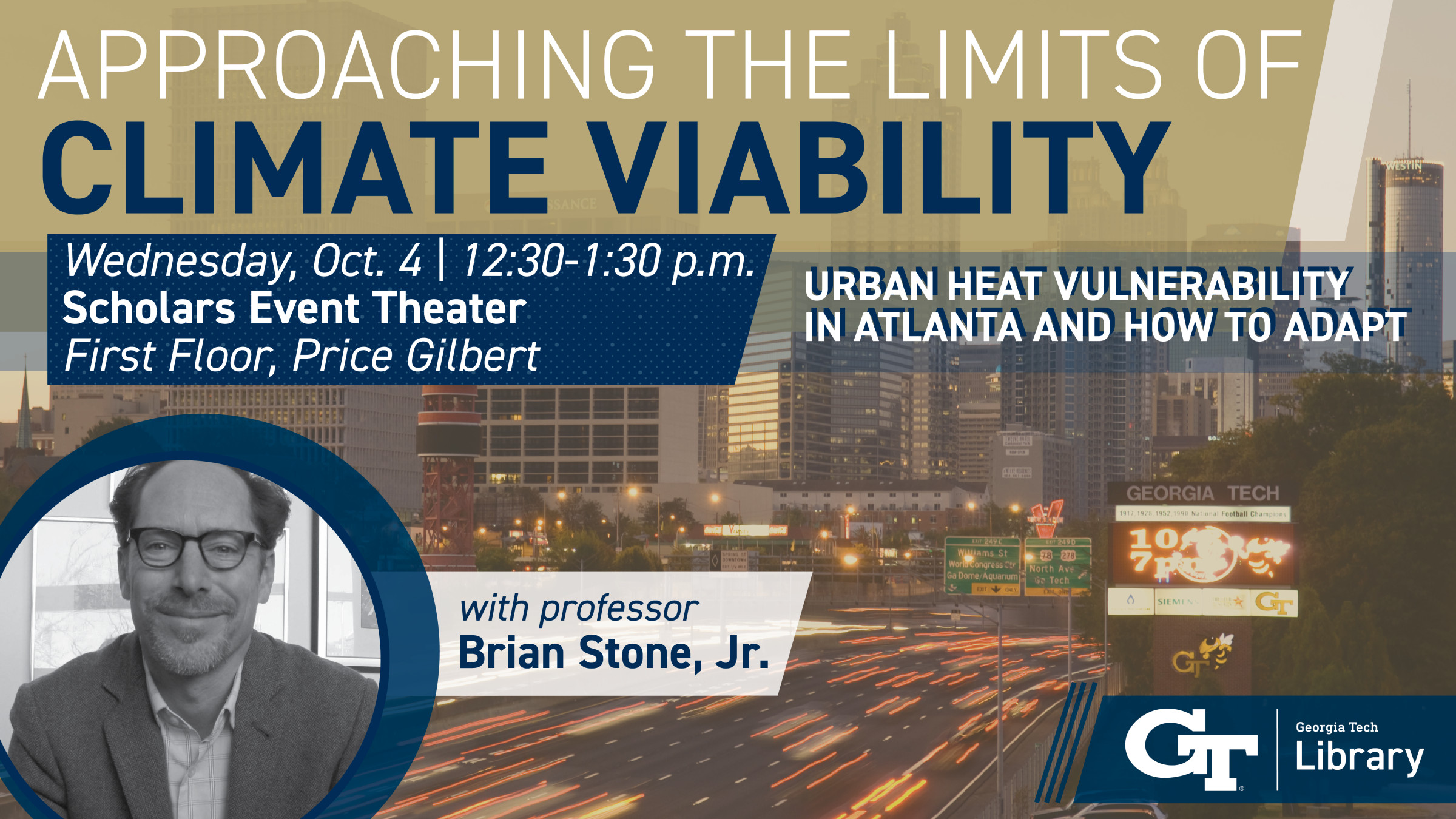 Join the Georgia Tech Library Wednesday, Oct. 4, from 12:30 to 1:30 p.m. as we welcome renowned climate expert speaker Brian Stone, Jr. for an enlightening presentation on a topic of paramount importance: "Approaching the limits of climate viability: Urban heat vulnerability in Atlanta and how to adapt." 
This event will take place in the in the Scholars Event Network Theater, located on the first floor of Price Gilbert Memorial Library.
As our world grapples with the undeniable impacts of climate change, urban areas face unique challenges. Among them, the relentless rise in urban temperatures, often referred to as the "urban heat island effect," poses significant threats to the well-being of our communities.
Stone, a leading authority in the field of climate science and urban planning, will shed light on the specific context of Atlanta, as recently highlighted in the article titled "Heat risk is growing. These are Atlanta's most vulnerable neighborhoods" in the Atlanta Journal-Constitution. 
This event is part of the Georgia Tech Library's initiative to highlight research that makes data accessible and meaningful to the public. It is made possible with support from the Price Gilbert, Jr. Charitable Fund. 
Brian Stone Jr., Ph.D., is a Professor in the School of City and Regional Planning at the Georgia Institute of Technology, where he teaches in the area of urban environmental planning and design. Stone's program of research is focused on urban scale drivers of climate change and is supported by the National Science Foundation, U.S. Centers for Disease Control and Prevention, and an array of municipal governments and foundations. He is Director of the Urban Climate Lab at Georgia Tech and author of the forthcoming book, Radical Adaptation: Transforming Cities for a Climate Changed World (Cambridge University Press). Stone holds degrees in environmental management and planning from Duke University and the Georgia Institute of Technology.