Archives & Special Collections
Using the Archives
The Archives Reading Room is open Monday, Wednesday, and Friday from 12:00-5:00 and Tuesday and Thursday from 10:00-5:00. The Reading Room is located on the first floor of Georgia Tech Library's Crosland Tower. Request materials 48 hours in advance of your visit. For the protection of the materials, we require visitors to follow posted reading room policies. Use the collection descriptions to search and request manuscript materials. Digitized content may be viewed using the Digital Portal and university publications are available through the institutional repository, SMARTech. For questions or assistance regarding the use of the materials, contact 404-894-4586 during normal business hours or contact us via our online form. We look forward to working with you!
All requests for Georgia Tech Archives materials are made through our online request system, Aeon.
Collections are housed offsite and must be requested at least 24 hours in advance. Materials are pulled Monday - Friday only (requests made after 3:00pm on Friday will be available on Monday). In the case of inclement weather, deliveries may be delayed. If this situation occurs, all researchers will be notified.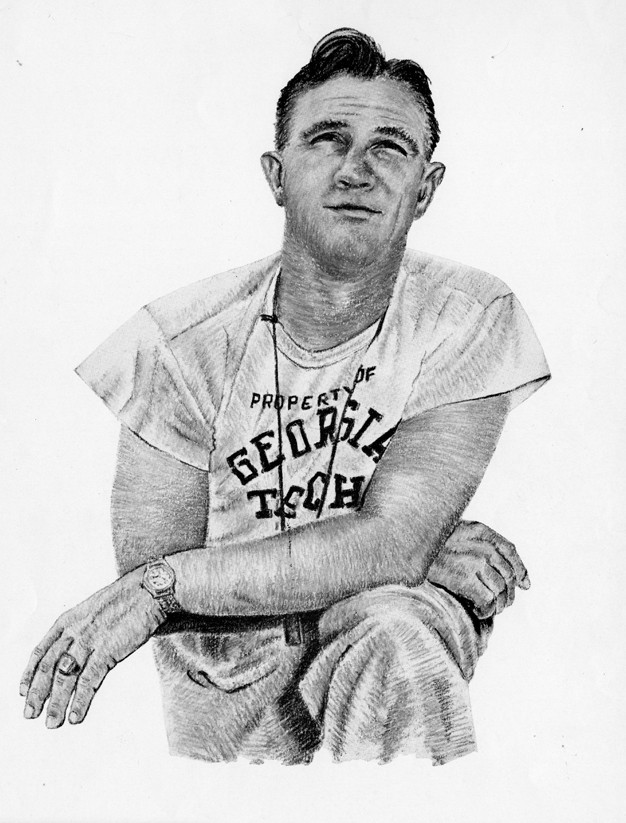 When citing a source, it is important to acknowledge the name and date of the item (if applicable), the title of the collection, the collection identifier, the name of the repository, and the name of the institution.
For example: Dodd with coaching staff, 1966, Bobby Dodd Visual Materials Collection (VAM380), Archives and Special Collections, Crosland Library, Georgia Institute of Technology.
Collections Policies
Please note: These files are Adobe Reader® (PDF) formatted files. To view them, you will need to download the free Adobe Reader.
User Registration and Access
Register for an Archives Research Account
Reading Room Policies
To help preserve our collections, we ask that researchers arrive with clean hands and handle all Archives materials with care. Reading room staff will provide instruction on the proper handling of Archives materials. For researchers consulting books, book cradles and weights are provided when necessary. When consulting manuscripts, researchers may use only one box or folder at a time, must retain the order of the materials contained in the box or folder, and must keep each manuscript flat on the table.
Cell phones should be set to silent mode and cell phone conversations are not permitted.
No food or drink is allowed.
All personal belongings must be stored in the specified location in the Archives Reading Room. You may bring into the reading room a laptop or tablet computer, a small camera (for personal use only), pencils, and loose sheets of paper. Pens, highlighters, markers, binders or spiral notebooks, tripods, and flatbed or hand scanners are not permitted. Flash photography is prohibited.
Appointments are not required for Archives researchers, but physical archival materials are only available for use during our operating hours (Monday-Friday, 9:00am-5:00pm). Researchers may wish to contact Archives staff in advance for assistance. Access to some collections may be restricted or delayed because of physical location, physical condition, donor requirements, or staff processing. Many collections are housed offsite, requiring requests to be placed at least 24 hours in advance of the research visit. You may contact us with any questions.
Reproduction Policies
Staff will digitize archival collections up to 15 items at no charge. Fees will be applied for 16 or more items, limited to 25 per person. At this time, architectural drawings will only be reproduced using photography. Expect at least a seven-day turnaround for receipt of reproductions.
In order to ensure the careful handling of Archives materials, all copying and scanning is completed by Archives staff. Personal duplication/reproduction equipment is not allowed in the reading room without prior permission.
Archives will not reproduce entire manuscript or archival collections or extensive sections of collections. Archives and Special Collections staff reserve the right to refuse duplication of materials based upon condition of the item, copyright, or donor restrictions. The decision to prohibit reproduction will be made by the Archives staff member; this decision is final.
Certain materials cannot be reproduced because of restrictions placed upon the item by the donor or agency of origin. In every case, copyright law (Title 17 of the U.S. Code) and the doctrine of educational fair use (Section 107 of H.R. 2223) applies.
Reproductions of materials housed in Archives are to be used solely for scholarly research. The department reserves the right to request the return of photocopies and/or scans. Copyright is not conveyed with the reproduction. The researcher must not quote from, publish, reproduce, or display any material, in whole or in part, without written permission from the copyright holder and from Archives. Transfer of reproductions to another library or repository is prohibited, except with written permission of the Head of Archives.
Materials that the Archives have obtained from other institutions or projects cannot be copied unless the researcher has obtained written permission of the original institution. The researcher assumes all responsibility for questions of copyright.
Purchase or download of an image reproduction does not constitute permission to publish. An Application for Permission to Publish must be submitted and approved for any and all publications.
Contact Archives & Special Collections with any questions about reproductions.
Copyright Restrictions
The copyright law of the United States (title 17, United States Code) governs the making of photocopies or other reproductions of copyrighted material. Under certain conditions specified in the law, libraries and archives are authorized to furnish a photocopy or other reproduction. One of these specific conditions is that the photocopy or reproduction is not to be "used for any purpose other than private study, scholarship, or research." If a user makes a request for, or later uses, a photocopy or reproduction (including a digital photograph or copy of a digital file) for purposes in excess of "fair use," that user may be liable for copyright infringement. Georgia Tech reserves the right to refuse to accept a reproduction order if, in its judgment, fulfillment of the order would involve violation of copyright law.
Researchers must make a written request to the Georgia Tech Archives for permission to publish any materials from its Archives and Special Collections. Georgia Tech assumes no responsibility for copyright violations or for any other legal issues (including the release of student information, health information or otherwise restricted information) resulting from the use or publication of archival materials. It is the responsibility of the researcher to secure any necessary permission from the appropriate copyright holder to quote, publish, or reproduce items from the Georgia Tech Archives, and to acknowledge in print that the materials are used or published with permission of Georgia Tech.
Archives & Special Collections
Georgia Tech Library
Clough Commons
266 4th Street NW
Atlanta, GA 30332-0900