Unraveling History: The Fulton Bag and Cotton Mill from Past to Present
6:00 PM - 7:00 PM
Scholar's Event Network Theater, first floor Price Gilbert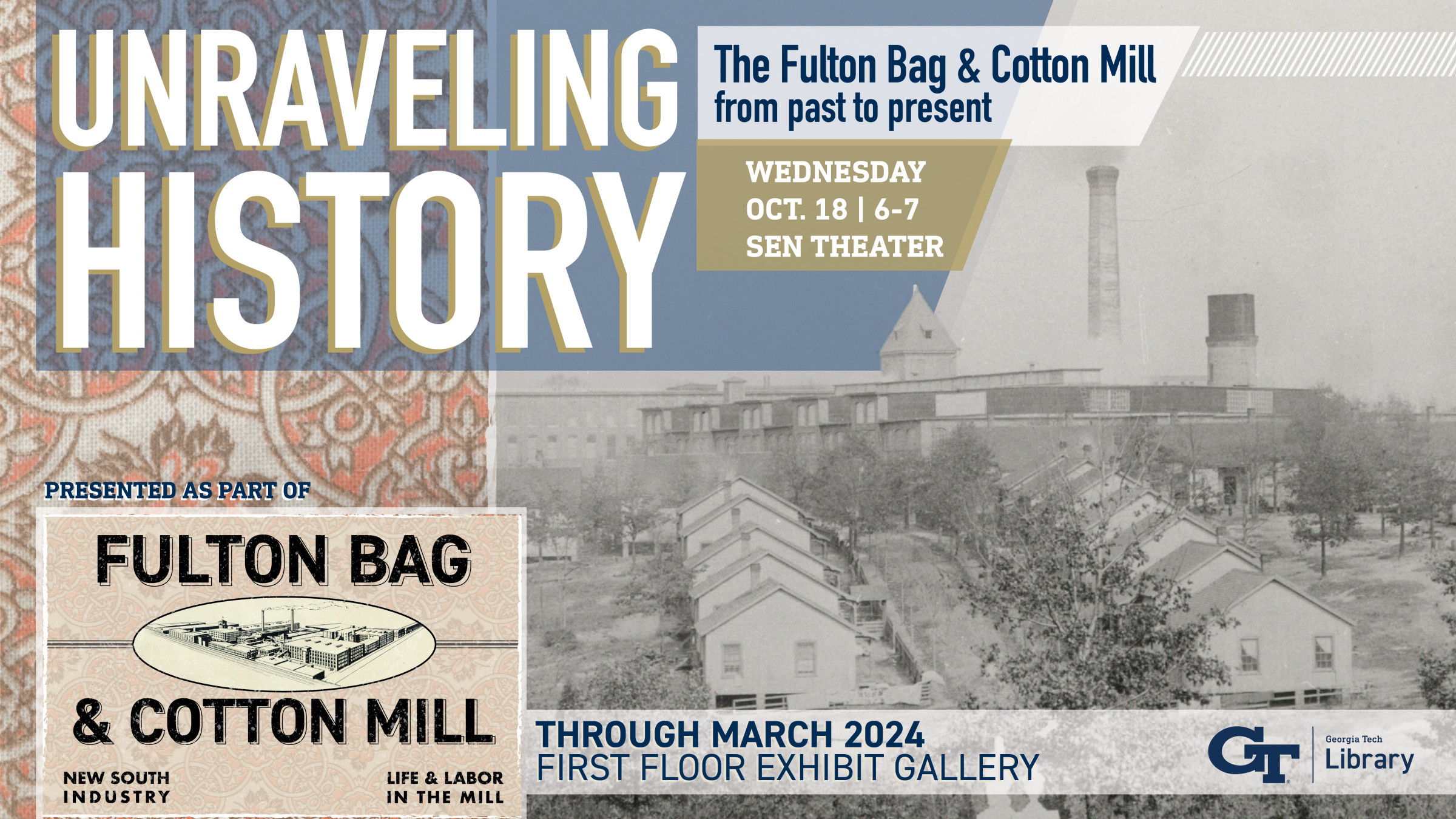 Join us Wednesday, Oct. 18 from 6 to 7 p.m. in the Georgia Tech Library's Scholars Event Network Theater, located on the first floor of Price Gilbert (room 1280), for an enlightening evening of exploration as we delve into the rich history of the Fulton Bag and Cotton Mill.
This captivating panel discussion, held in conjunction with the exhibit in the Library's first-floor Price Gilbert Gallery, will shed light on the mill's significance, its symbiotic relationship with Georgia Tech, and its contemporary role as a unique educational resource.
An iconic landmark looming over the history of both Georgia Tech and Atlanta, the Fulton Bag and Cotton Mill stands as a testament to a bygone era and continues to influence the present. To fully grasp its significance as a symbol of Atlanta's industrial prowess, we invite you to an engaging panel discussion featuring distinguished experts who will guide us through its past, its integration with Georgia Tech, and its relevance in modern education.
Panelists:
Jody Thompson, Georgia Tech Head of Archives:

Thompson possesses a wealth of knowledge about the mill's historical ties to the Institute. With a unique perspective on archival materials, she will illuminate the shared journey of the mill and Georgia Tech.

Nina Caltabiano Elsas, Patch Works Art and History Center:

Elsas brings an artistic dimension to the conversation. As a historian and curator, she will provide insights into the cultural impact of the mill on Atlanta's evolving identity.

Danielle Wilkens, Associate Professor in the Georgia Tech School of Architecture:

Wilkens offers a design-oriented perspective on the mill's architectural significance and its role in shaping urban landscapes. Through her expertise, Wilkens will highlight how the mill's structures continue to influence architectural education and practice.
After the panel, visitors are invited to explore the journey of the Fulton Bag and Cotton Mill from its beginnings as a cotton manufacturing powerhouse to its present-day significance in the exhibit. Discover the profound ways in which Georgia Tech and the mill have influenced each other, and witness how students are actively utilizing the mill's legacy to gain practical knowledge and insights in diverse fields.
Register to attend: https://www.eventbrite.com/e/unraveling-history-the-fulton-bag-and-cotton-mill-from-past-to-present-tickets-717283392937?aff=oddtdtcreator