Artist-In-Residence Workshop Series: Artist Talk and presentation of artwork
5:30 PM - 7:30 PM
Price Gilbert Library, Scholars Event Theater – room 1280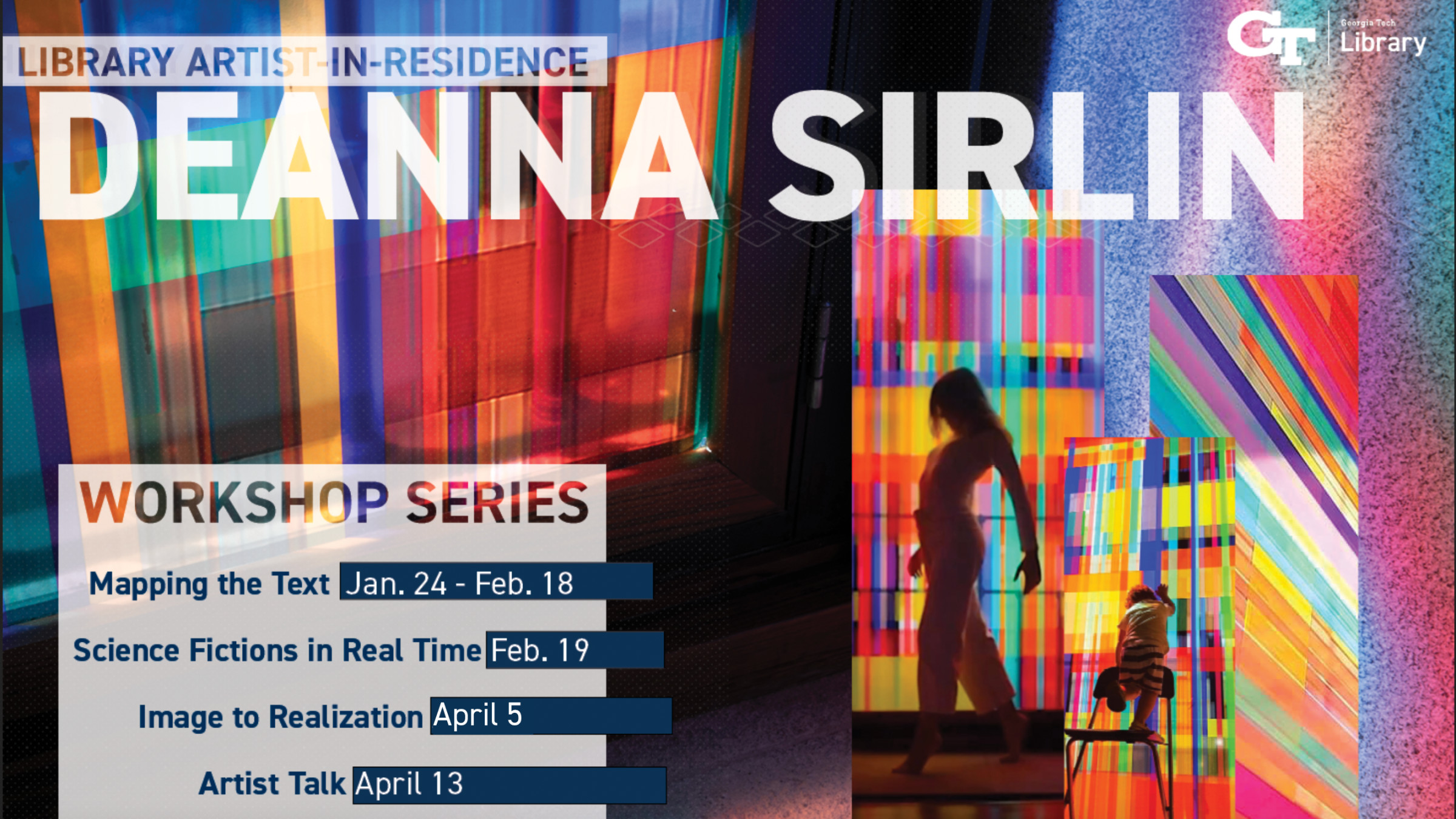 You are invited to join Georgia Tech Library Artist-in-Residence, Deanna Sirlin, on April 13 from 5:30 to 7:30 p.m. for a reception and artist talk to celebrate her new Crosland Tower site work: Watermark.
Watermark addresses the most important issue of the 21st century -- climate change -- through color, transparency and composition influenced by the exhibition 50 Years of Science Fiction at Georgia Tech.

Sirlin is an artist best known for her gestural paintings and monumental installations. In her paintings, she explores how texture and composition affect color relationships. Through her installations, she dramatically alters physical environments, using color and light to challenge how viewers interact with space.
ABOUT DEANNA SIRLIN
Sirlin received an MFA in Painting from Queens College, following a BA in Art from SUNY Albany.
She has received grants and awards from the Judith Alexander Foundation; the Nexus Fund; US Artists; Georgia Chapter of The National Museum of Women in the Arts; The US State Department; and a Creative Capital Warhol Foundation award. Sirlin has had artist residencies at Yaddo; the Mark Rothko Centre, Latvia; the Cini Foundation Venice, Italy; Padies Foundation, Lempaut, France; and the City of Nuremberg, Germany. Her upcoming exhibition Borders of Light and Water will part of the 59th Venice Biennale in Italy.
To learn more about Sirlin's work, visit www.deannasirlin.com.
Event
Approaching the limits of climate viability: Urban heat vulnerability in Atlanta and how to adapt
Arts & Making
Tech's Tactile Thursdays: Paper Assemblage
Event
STEAMeD Library mural student and artist talk